What to say when you talk about health reform
by Nicole Johns
Sept. 26, 2013
Everything I am about to say comes from the great work of Enroll America. Those folks have done the research and pulled it all together so we can use it to make sure all Americans have the affordable quality care they need. So check out all of their resources for everything you need to plan your outreach and enrollment work.

The health reform law is so confusing and complicated. It doesn't surprise me that so many people feel like its just too much to understand, let alone do anything. So I'm going to try to break it down into some simple messages for you to share with people you want to encourage to sign up through the Marketplaces. (If you don't know what a Marketplace is, then start with this fun and simple video.

Some things to keep in mind when talking to people about health insurance:
Share personal stories about the uninsured and how health reform helps them be healthy and more secure.
Keep it simple and concrete.
Make sure the message is targeting the individual. Single people don't identify with messages about families and vice versa.
Share your values, like "security", "family", "fairness". Financial and health security are the biggest motivators for the uninsured to seek more information about the Marketplace.
There is deep confusion and skepticism among consumers, due to lack of experience with insurance or bad experiences. Be prepared for it.
Most people (91%) think that health insurance is necessary or very important.
Cost and affordability are the top barriers to coverage for most people.
Use examples and dollar amounts whenever possible, rather than percentage or other abstract concepts.
Four messages about health reform that will reach most uninsured people: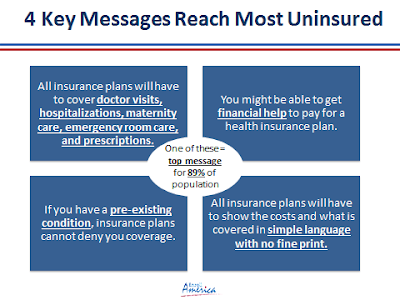 1. All insurance plans will have to cover doctor visits, hospitalizations, maternity care, emergency room care, and prescriptions.
This refers to the 10 Essential Health Benefits. You can learn more about them here.
2. You might be able to get financial help to pay for a health insurance plan.
People with income between 100% FPL and 400% FPL (Federal Poverty Line) will be eligible for tax breaks to pay for premiums. There is also help for some people to cover co-pays. You can learn more about ways to make health coverage affordable here.
3. If you have a pre-existing condition, insurance plans cannot deny coverage.
Health insurance companies cannot discriminate against anyone based on health status or pre-existing conditions, including HIV, cancer, diabetes, or any other chronic condition or infectious disease. More on these protections here.
4. All insurance plans will have to show the costs, and what is covered in simple language with no small print.
The health care law requires all coverage information to be simple, clear and comparable. So you can compare plans for the different services, doctors, and limits. No small print allowed.

Healthcare.gov is the place to go to learn about the Insurance Marketplaces and how to access insurance. Here's a great place to start to figure out what kinds of information you need to enroll and how to compare your options.