The Team: Michael Dorsey
by Briana Morgan
April 11, 2013
This post is part of a monthly series published on the second Thursday of every month. It features a member of the community planning team - one of the devoted members of the Ryan White Planning Council or the Prevention Planning Group that volunteers his or her time to improve HIV services in our area. 

This month, we feature Michael Dorsey.  Michael is a Planning Council member and current co-chair of the Positive Committee.  I asked him the following questions.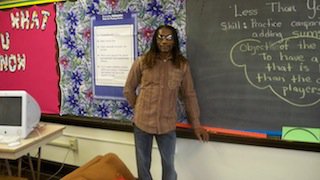 Michael in the classroom
What made you decide to get involved with the Ryan White Planning Council?
I got involved with the Ryan White Planning Council because I like to give back to my community and I wanted to be a positive voice to improve care for people living with HIV/AIDS.

What is your favorite part of being a RWPC member?
My favorite part of being a RWPC member is serving on the Positive Committee. It helps me educate PLWHA to take care of themselves, stay linked into care, encourage them to take advantage of support groups, access Ryan White Care Act services, and to always be informed about the HIV/AIDS agenda. I also like the idea that the RWPC performs a great deal of work throughout the year to assess needs, evaluate financial and program activities, and participate in planning that is coordinated with other local and state entities.

What is the biggest challenge you've had as an RWPC member?
One of the biggest challenges I have been faced with is getting members to serve on various committees, be a voice and participate, and pass information on to educate their communities. If there is ever going to be an AIDS-free generation, those affected/infected must advocate for the cause.

What do you wish more people knew about community planning?
I wish more people knew that community planning supports and enhances the role of PLWHA. They help one to make effective decisions in their community, and that it is made up of people who represent different communities, cultures and experiences.

How has your background as an educator helped you as a member?
My background as an educator has helped me to be a motivated spokesperson to mentor and coach those individuals who need help in any given area. We all come from different background with different skills. With that being said, we all have something to give back. We must continue to "ACT UP, FIGHT BACK, and FIGHT HIV/AIDS!"

What is your favorite thing about the Philly area?
My favorite thing about the Philly area is that we have so much history, geography, cityscape, culture, economy, demographics, law & government, education, as well as the transportation system. Also the diversity and love here. I appreciate that the Philadelphia is the largest city in the commonwealth of Pennsylvania, and the second largest city on the East Coast of the United States. It also played an instrumental role as a meeting place for the Founding Fathers of United states, who signed the Declaration of Independence in 1776.

Anything you like to do while in the neighborhood for meetings?
I would like to just pass on information that is learned through attending professional development workshop or what is learned in support groups in Philadelphia.

Anything else you'd like to add?
One thing that I would like to add would be commending the staff at Office of HIV Planning for the work that they do. The staff has a great vision, passion, outstanding decision makers, builders for the community at large, and have good character. Kudos for being quick, committed, analytical and thoughtful.

To meet our featured community planners or get involved in the process yourself, we invite you to participate in one of our meetings.  You can always view a meeting calendar at http://www.hivphilly.org/calendar.html, or email info@hivphilly.org to learn more.