Health Reform and You: Part 1
by Nicole Johns
May 9, 2013
Before we get into the specifics about how health reform and the Affordable Care Act (ACA) affect the lives and health insurance status of people living with HIV/AIDS, we should make sure everyone understands the basics of the law. If you already have the basics of Medicaid expansion, insurance reforms, state health insurance exchanges/marketplaces, federal subsidies for premiums and cost-sharing, and the individual mandate under control, then you can skip this post and wait for Part 2. Part 2 will focus on how the ACA impacts people living with HIV/AIDS. Part 3 will focus on how people receiving Ryan White services might be impacted by the ACA.

But wait! Take this quiz before you do anything. That way you can see what you actually know and what you might want to learn more about.

Leave your comments and questions in the Comments of this post, and I'll do my best to answer them and follow up.

The Basics
Kaiser Family Foundation is a great source for reliable, people-friendly information on health reform and the Affordable Care Act (ACA). I recommend checking them out from time to time or signing up for email updates. Here are some of the useful resources you can find there.

Health Reform Hits Main Street
An oldies but goodie - this animation was created in 2010, right after the health reform law (ACA) was passed by Congress and signed into law by President Obama. It goes over the big changes in the law. It's kind of cute and offers some good information, well worth 10 minutes of your time.

You can see what parts of the law have already taken affect and what will come in the months and years ahead. You can select what is featured in your timeline by topic or year.

Questions and facts about insurance, Medicaid, eligibility, federal subsidies for health insurance and more.

ACA 101 Briefing
On April 26, 2013 Kaiser Family Foundation hosted a briefing outlining the basics of the ACA, to help all of us understand it better and now what it will mean for our lives and our communities.

This flowchart is probably the simplest explanation for how coverage and support for health insurance will change in 2014. Just answer the questions in the boxes with a 'yes' or 'no' and you will k now what your options are for health coverage next year.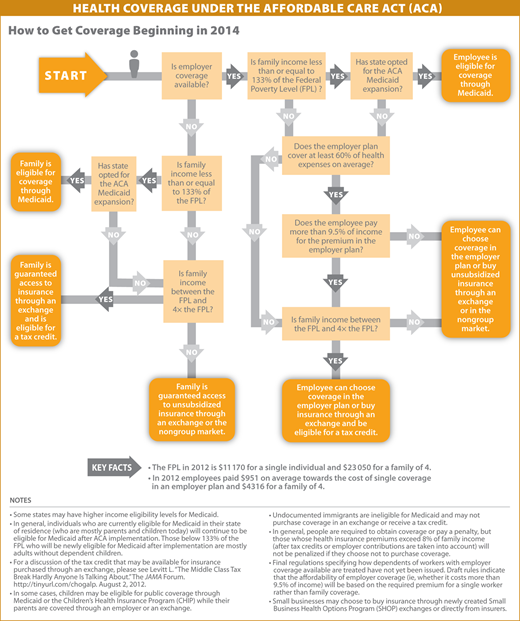 Stay Tuned for Part 2
Next time we'll talk about how health reform affects people living with HIV/AIDS. Don't forget to leave your comments, questions and concerns about health reform in the comments here. That way I can answer your questions in future blog posts and see what other resources might be available for you and others that address your concerns.