Dave's AIDS Ride
by Office of HIV Planning
Dec. 2, 2012
This post of an excerpt from an article that was previously published in April 2002, in European AIDS Ride News.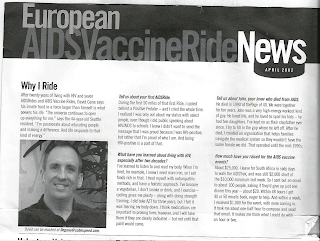 Tell us about your first AIDS Ride.
During the first 50 miles of that first Ride, I cycled behind a Positive Pedaler – and I cried the whole time. I realized that I was only out about my status with select people, even though I did public speaking about HIV/AIDS to schools. I knew I didn't want to send the message that I was proud because I was HIV-positive, but rather that I'm proud of who I am. And being HIV-positive is a part of that.

What have you learned about living with HIV, especially after two decades.
I've learned to listen to and read my body. When I'm tired, for example, I know I need more iron, so I eat foods rich in that. I treat myself with naturopathic methods and have a holistic approach. I've become a vegetarian, I don't drink or smoke, and I exercise – cycling gives me plenty- along with regular strength training. I did take AZT for three years, but I felt it was tearing my body down. I think medications are important to prolong lives, however, and I will take them if they are indicated – but not until that point would come.

Tell us about John, your lover who died from AIDS.
He died in 1990 at the age of 40. We were together for ten years. John was very high-energy workout kind of guy. He loved life, and he loved to spoil his kids – he had two daughters. I've kept on a stepfather ever since. I try to fill the gap where he left off. After he died I created an organization that helps families navigate the medical system so they won't have the same hassles we did. That operated until the mid-1990's.