The Big Picture - May 2013
by Briana Morgan
May 23, 2013
This post is part of a monthly series published on the fourth Thursday of every month. It provides an overview of themes and topics from the general meetings and committee meetings of the Ryan White Planning Council and Prevention Planning Group each month. To view meeting materials and presentations, please visit www.hivphilly.org.


This May, the Ryan White Planning Council (RWPC) received two separate presentations on the latest trends in HIV.  First up, Dr. Helena Kwakwa told RWPC members about the new health system navigators in the City's Health Centers.  This program helps people that just found out that they're HIV-positive into medical care.  It also helps people get back into care if they stopped going to the doctor.  Next, we had Evelyn Torres and Sebastian Branca from AACO give us an update on the Client Services Unit (CSU), the Housing Services Program (HSP), and Quality Management (QM).  You can get the full scoop here.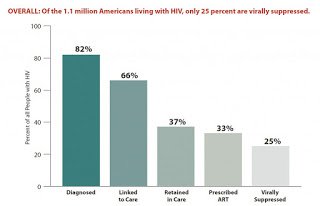 Treatment Cascade
Meanwhile, the Comprehensive Planning and Finance Committees held another joint meeting.  They talked about the priority setting process that the RWPC has to have at least every three years.  They use this process to organize service categories from highest priority to lowest priority.  There are going to be some major changes this year, so they updated their priority setting tool.  The new tool focuses more on the treatment cascade.  They also started to tackle the idea of cost-effectiveness for services.  The Comprehensive Planning Committee will move forward with priority setting, while the Finance Committee keeps working on allocations-related issues.

Both the Needs Assessment Committee and Points of Integration Workgroup (a joint venture of the RWPC and PPG) are plugging along with their work on linkage to care.  Linkage to care (making sure newly diagnosed HIV-positive people get into medical care) is one of the most challenging parts of the cascade for the Philadelphia area.  The Needs Assessment Committee kept working on specific questions they had for HIV testers about how currently they get their clients to the doctor.  The Points of Integration Workgroup agreed to create a new model for linkage to care for the Philadelphia area.  They're starting off by looking at research on current models.  Both groups talked about navigators, too.

The Positive Committee has also been discussing coming changes from the Affordable Care Act (ACA).  (Nicole is doing a great series on health reform and the average consumer.)  The Philadelphia Eligible Metropolitan Area (EMA) covers nine counties in two states.  Since New Jersey is expanding its Medicaid program but Pennsylvania isn't, we'll have some unique challenges in 2014.  Nicole also talked about Essential Health Benefits and other topics from the ACA.

Last year, the CDC came out with a new HIV Planning Guidance.  This changed the work required in prevention planning, shifting its focus to broad community engagement.  The PPG has been working to re-imagine itself for several months, in order to stay consistent with this changing landscape.  The PPG as we know it will cease to exist when all of its members' terms expire on June 30.  Its new incarnation, the Philadelphia HIV Prevention Planning Group (HPG), will kick off in July.  Their specific tasks are changing, but their work is just as important. Apply for HPG membership by June 18, and help shape the future of HIV prevention in Philadelphia.



This is an exciting time to get involved in community planning for the Philadelphia area. To learn more, follow the links in this post, attend one of the meetings listed on our calendar, or email info@hivphilly.org to find out how to get involved. If you have questions, you can also call us at 215-574-6760.