The Big Picture - June 2013
by Briana Morgan
June 27, 2013
Due to a crazy weather situation that never actually happened, the RWPC and RWPC Nominations Committee meetings were both canceled this month.  Three of the RWPC's committees did still meet, though.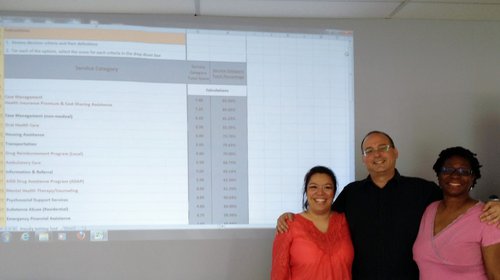 RWPC members Lupe, Gary, and Gerry setting priorities
The Comprehensive Planning Committee met to begin its process for setting service priorities for the 2014 fiscal year.  Each service category was scored using five factors: payer of last resort, consumer survey data, impact on the care continuum, unmet need data, and designation as an Essential Health Benefit (EHB) under the Affordable Care Act (ACA).  The group was able to score all of the services in just one meeting.  They'll talk about the draft list at their next meeting at 10 a.m. on Wednesday, July 10 and then present the list to the RWPC for a vote at their July meeting.

Meanwhile, the Finance Committee met to continue discussions on its FY2014 allocations process.  We were joined by AIDS Activities Coordinating Office (AACO) staff, and the group had a lengthy talk about the type of data they would like to consider.  It will be a challenging year for planning allocations, since the fiscal year will coincide with the beginning of most parts of the Affordable Care Act.  They ultimately created a list of data that they planned to look at in order to evaluate the cost-effectiveness of different services.

The Positive Committee had a special presentation from Philadelphia FIGHT in honor of AIDS Education Month.  They discussed HIV myths and facts, and received information on various services.  They also reviewed their new committee brochure.

June marked the last official meeting of the PPG.  They'll be officially replaced by the HIV Prevention Planning Group (HPG) starting on July 1.  This month, a small review panel met to discuss applications for HPG membership.  They recommended a pool of applicants for the new HPG.  After this, the PPG met for the last time.  We were joined by our CDC project officer, Angie Alvarado.  Community co-chair Jen Chapman gave a fantastic overview of HIV prevention planning, including updates from the Urban Coalition for HIV/AIDS Prevention Services (UCHAPS) and a recent HPG Bootcamp.  We thank the PPG members for their service, and look forward to working with the new HPG starting on Wednesday, July 24.


Members from both the care and prevention planning bodies come together for the Points of Integration Workgroup.  Like each of the committees, they've been giving a lot of thought to the treatment cascade and its implications for Philadelphia.  A few months ago, they chose to focus on the "linkage to care" aspect - getting people that test positive for HIV into medical care right away.  They think that having the HIV tester ask questions about "treatment readiness" at the time of the test might help us to get new positives into care.  At their last meeting, the group started to look at different models for these types of assessments, including the Anti-Retroviral Treatment and Access to Services (ARTAS) model.


This is an exciting time to get involved in community planning for the Philadelphia area. To learn more, follow the links in this post, attend one of the meetings listed on our calendar, or email info@hivphilly.org to find out how to get involved. If you have questions, you can also call us at 215-574-6760.