Blog
Welcome to the OHP blog. Here, we'll post about topics related to HIV planning, including health equity, Planning Council business, and more. You can also browse through archived blog posts, dating back to 2010.
March 17, 2020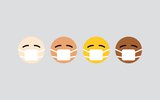 Update: In accordance with City Directive, our physical location for the Office of HIV Planning is closed through at least Monday, April 6.
Nov. 5, 2019
In September 2019, the Comprehensive Planning Committee hosted a lively discussion about housing and implementation of different models. Their goal was to uncover what the Ryan White program can do to cut down on housing insecurity as a way to...
April 11, 2016
Finance Committee HRSA's Policy Clarification 16-02 sets rules about what can be funded by Ryan White. The clarification changes how the EMA can fund local AIDS pharmaceutical assistance. It also means the EMA can now fund syringe access programs...
Join the Planning Council